The Communist Party of Vietnam (CPV) will continue to cooperate closely and make contributions to the International Conference of Asian Political Parties (ICAPP), helping to maintain peace, stability and development in the region and the world, the Party leader said.


Party General Secretary and National Assembly Chairman Nguyen Phu Trong made the remark while receiving a delegation of key ICAPP officials in Hanoi on April 19.
He spoke highly of ICAPP's success over the past decade, stressing the important role of multilateral forums for political parties in the socio-political life of the region and the world, promoting cooperation and exchange between political parties and cooperation between countries.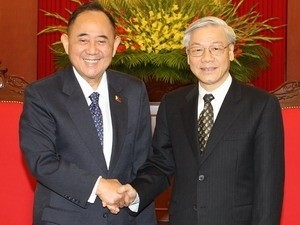 NA Chairman Nguyen Phu Trong receives the delegation of key ICAPP officials led by Jose De Venecie
Amid the current fluctuations in the world, Trong said, political parties needed to enhance cooperation, creating common awareness and consensus in order to find effective measures to cope with regional and global challenges.
Trong expressed his belief that the ICAPP would further promote its role and influence, not only in the region, but also expand cooperation with political parties and multilateral organisations for political parties in other regions.
The ICAPP officials delegation congratulated Vietnam and the CPV on achievements in 25 years of the renewal process, as well as the increasing role and prestige of the country in the region and the world.
They said they believed that the Vietnamese people would successfully implement goals set by the 11 th Party Congress' Resolution.
The ICAPP leaders informed the General Secretary of key results over the past decade of the ICAPP's operation. With the participation of nearly 100 political parties in Asia , ICAPP has become the world's largest multilateral forum for political parties.
The CPV, in the capacity of membership of the ICAPP Standing Committee, made positive contributions to the forum's development, they said, adding that they believed the CPV will continue to make more contributions to implementing ICAPP goals, contributing to keeping the environment of peace, cooperation and development in the region and the world.
Earlier, the ICAPP delegation and Hoang Binh Quan, member of the CPV Central Committee and head of the CPV Central Committee's Commission for External Relations, held talks, discussing specific measures to boost cooperation between the CPV and ICAPP and its Standing Committee.
They agreed that the CPV would host a regular meeting of the ICAPP Standing Committee in Hanoi in the near future.
The ICAPP delegation included Jose De Venecia Jr, Founding Chairman and Co-Chair of the ICAPP Standing Committee, and Chung Eui-yong, Co-Chairman of the ICAPP Standing Committee and Secretary General of the ICAPP Secretariat.