Communist Party of Vietnam General Secretary Nong Duc Manh has asked the Hanoi police to spare no efforts to safeguard political security and peace for the capital city and the whole country.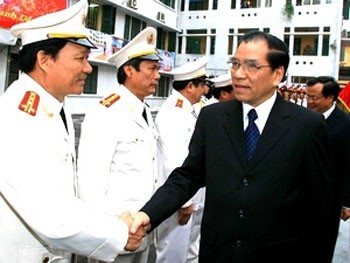 Party General Secretary Nong Duc Manh (black suit) visits and wishes Hanoi police them a happy new year on January 28 (Photo: VNA)
The Party leader visited the force on January 28, showing his great care for security at a crucial juncture when so many major events are soon to take place: the traditional New Year's festival is just a couple of weeks away, the Party's 80th founding anniversary is approaching in March and Hanoians are preparing for their millennium anniversary in October.
Party leader Manh emphasised that "Playing a key role in defending national security and social order, the public security force has been entrusted with a very important assignment, especially regarding Hanoi, the heart of the nation and the national political and administrative centre."
"The force should, therefore, safeguard the political security, ensure social order and maintain peace and stability for Hanoi and the whole nation, and spare no efforts to that end."
He also advised them to establish good relations with the people as a key factor for success in line with the late President Ho Chi Minh's teachings "All resources lie with the people, all strengths are in the people."
The Party leader asked police to take the initiative in the struggle against hostile forces as well as adopt firm measures against economic crimes, corruption and gangsters.
The Hanoi police were awarded the Government's flag "Leader in the movement for national security in 2009," as they had been many previous years in a row. Two of its units have been conferred the title "The Hero of the People's Armed Forces".