The Party and State were determined to fight corruption and waste, and this was proven by the establishment of the Central Steering Committee for Preventing and Fighting Corruption, Party General Secretary Nong Duc Manh said on February 27 in a meeting with citizens in Ha Noi.
Party leader Manh met with members of the public in the city's Hoan Kiem and Ba Dinh Districts the same day to prepare for upcoming elections for the 12th National Assembly.

Many citizens told the Party leader that they were happy and encouraged to see the country's extensive achievements, viewing them as an encouragement to people and soldiers nationwide. They affirmed consolidated confidence in the Party and State.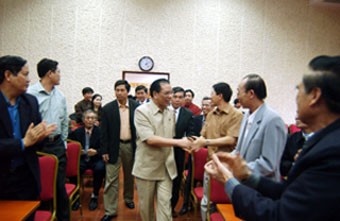 Party Chief Nong Duc Manh in a meeting with citizens in Ha Noi.
However, citizens expressed concerns over such matters as corruption, waste, weaknesses in land and construction management, and challenges for Viet Nam following its entry into the WTO.

Some questioned the Party General Secretary about State policies on farmers, retired persons and people who made contributions to the revolutionary cause, and shortcomings in the process of equitising State-owned enterprises.

As National Assembly elections are approaching, some voters worried that the National Assembly was unable to meet the demands of the new situation, especially in lawmaking, and supervising Government activities.

General Secretary Manh affirmed that the Party and State were determined to strictly deal with violations of the law. The National Assembly, meanwhile, is the most powerful State body and the supreme organ for supervising Government actions, he said, and it needed to carry out its functions effectively.

The coming NA elections, Party leader Manh said, would be a significant political event and was a major responsibility of the Party and the people this year.