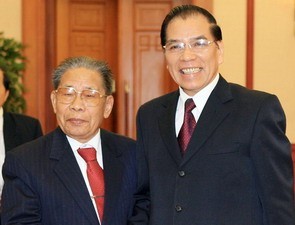 Vietnam's Party chief Nong Duc Manh (R) meets with Samane Viyakhet in Hanoi Mar. 30 (Photo: VNA)
Party General Secretary Nong Duc Manh received Samane Viyakhet, head of the Steering Board for compiling history of Laos-Vietnam special ties, in Hanoi on Mar. 30.
Samane Viyakhet, who is politburo member of the Lao People's Revolutionary Party Central Committee responsible for instructing ideological, theoretic and cultural work, stressed that he will continue joining efforts with Vietnam to complete the compiling of the history of the Laos-Vietnam relations, contributing to preserving and developing the two countries' relations.
He affirmed the Lao Party, State and people's determination to do their best to strengthen the special Laos-Vietnam friendship, unity and comprehensive cooperation.
General Secretary Manh spoke highly of the great achievements made by the two steering boards for compiling the history of Vietnam-Laos special ties.
The leader said he hoped that the two compiling boards will promote cooperation to ensure the highest quality of this significant work, meeting the two peoples' aspiration, and contributing to education on the traditional special friendship and unity and comprehensive cooperation between Vietnam and Laos.