Vietnam has highly valued the role of the US Congress on fostering relationship between the two countries, said Party General Secretary Nguyen Phu Trong.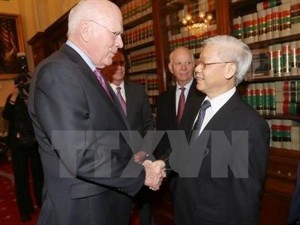 US Democratic Senator Patrick Leahy welcomes Party General Secretary. (Photo: VNA)
The Party leader made the statement while meeting a US Democrat and Republican delegation led by US Democratic Senator Patrick Leahy in Washington on July 8.
During the meeting, US lawmakers expressed their pleasure at the robust development between the two legislative bodies over the recent period.
US congressmen also expressed their concern over the recent developments in the East Sea .
For his part, the Party leader said Vietnam has highly appreciated the US 's constructive and responsible contribution to the East Sea issue. The General Secretary also stressed that Vietnam continually pursues its foreign policy of independence, self-reliance, peace, cooperation, being an active, trust and responsible member of the United Nations.
Vietnam wants to settle all disputes in the East Sea via peaceful dialogues and respect to international law, especially the 1982 Convention on Law of the Sea and the Declaration on the Conduct of Parties, said the Party leader.