Party General Secretary Nong Duc Manh led a Party Central Committee delegation to the northern port city of Hai Phong from April 7-8 to examine the implementation of Party congresses at all levels.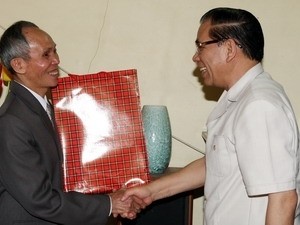 Party General Secretary Nong Duc Manh (R) meets a Hai Phong resident (Photo: Vietnam News Agency)
Working with the municipal Party Committee, the Party leader stressed that the 11th National Party Congress is a very significant event for the country and that the all-level Party congresses leading up to the National Party Congress are important political activities for the whole Party, the whole people and the whole army.
The preparation and implementation of the all-level Party congresses must be based on the spirit of strongly renovating currently methodology, improving the leadership capacity and combativeness power of Party organisations; promoting democracy and strengthening solidarity.
According to the General Secretary, in the next five years, the country should continue focusing on improving its leadership capacity and the combativeness of the Party and promoting the strength of the whole nation to boost the rapid and sustainable development of the country as well as continue speeding up the renewal process.
In 2010, Hai Phong city's Party Committee must well perform two major tasks--successfully organising Party congresses at all levels and fulfilling its set socio-economic development targets--he said.
Regarding the city's socio-economic development orientations, Party leader Manh suggested that with its advantages in terms of seaports, Hai Phong should develop hi-tech and environmentally-friendly industries.
In addition, the city also needs to focus on developing services in order to turn it into the largest seaport service centre in the north as well as one of the biggest financial and banking service centres in the country, he added.
By April 5, 14 out of 34 selected Party cells in the city (or 41 percent) have completed the organisation of their congresses.
General Secretary Manh attended and delivered a speech at the 10th Party congress of the Hoang Van Thu Ward Party Committee for the 2010-2015 tenure.
He suggested that reports presented at the congress should focus on analysing and clarifying issues relating to the people's lives.
The congress needs to discuss specific and practical tasks and measures in order to address pressing issues among local people, he said, adding that the congress should select qualified cadres for the new executive committee.
During the visit, the Party leader visited the Hai Phong Cement and Thermoelectric Power Plants.