Party General Secretary Nong Duc Manh commended the army on its participation in a wide range of activities to maintain the nation's socio-economic stability and defend its national sovereignty and territorial integrity, as well as protecting its interests.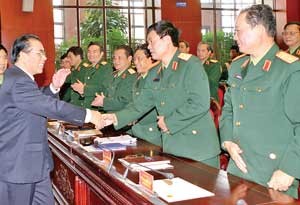 Party chief Nong Duc Manh (L) comes to attend the army conference Tuesday
The party chief made this statement at an all-army conference to review military and political affairs during 2008 and to plan ahead the work for 2009 in Hanoi on Dec. 8-9.
He applauded the army for taking an active and efficient role in national programs tailored to promote socio-economic development and reduce poverty in remote, rural, border and island areas.
The army has acted as a key force in search and rescue activities during times of natural disasters, as well as in post-disaster relief operations, the party chief said.
During 2009, the army should integrate its core defence tasks with economic, security, and external affairs as the country becomes more involved in the global economy, Party General Secretary Manh said.
He urged the army to strengthen its defence capability on the grounds of the strengthening of the nation, the entire political system and the national unity bloc.
The army should also work to consolidate levels of solidarity among ethnic minority groups and spur socio-economic development in remote, rural and mountainous areas, former revolutionary bases and ethnic minority-inhabited areas.
It should also focus on developing its defence capabilities in strategic locations, as well as remote, rural, border and island areas, the party leader said.