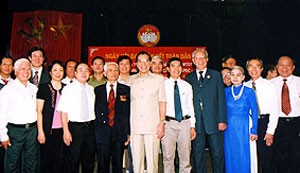 Party General Secretary Nong Duc Manh and the delegates attending the "All-Nation Great Unity" festival
to mark the 76th founding anniversary of the National United Front - predecessor of the Viet Nam Fatherland Front - at Ha Noi's Lang Ha ward on Sunday.
Talking with the participants, the Party leader emphasized that under the leadership of the Party and the assembly of the Viet Nam Fatherland Front at present and the National United Front in the past, Vietnamese people of all walks of life have united in carrying out successfully two resistance wars for national reunification and making immense and historical renewal achievements to steadily advance the country.
He also spoke of the advantages, difficulties and challenges in implementing the goals and orientations set forth by the tenth Party Congress. He called on all Vietnamese, inside and outside the country, to work together in building and safeguarding the nation.
"Only by achieving 'unity, unity, great unity' can we yield 'success, success, great success'," stressed the Party General Secretary.
He took the occasion to ask Party and administration leaders to work toward bringing into full play people's spirit of mastery, exercising grassroots democracy regulations, and assisting the Viet Nam Fatherland Front in performing its functions of supervision and social participation, thus contributing to making the Party pure and strong and solidifying the administrations at all levels.