General Secretary Nong Duc Manh has expressed gratitude to young people and students all over the world for their assistance to Viet Nam during its past struggle for national liberation and current process of national defense and construction.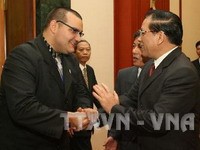 Party chief Nong Duc Manh (R) shakes hands with WFDY delegates
The Party leader made the statement while meeting representatives from 68 organizations from 43 nations, who are in Viet Nam attending the 17th Assembly of the World Federation of Democratic Youth (WFDY).
The General Secretary also said: "The Vietnamese Party, State and people have always believed in young people and have provided favorable conditions for them to be educated, to make contributions and become mature."
He affirmed the Vietnamese people's determination to successfully realize socialism, making Viet Nam a strong country with wealthy people and an equitable, democratic and civilized society, which actively contributes to the common cause of the world people's efforts for peace, independence, democracy and social progress.
Representatives of the management board of the WFDY and participants at the assembly expressed their pleasure at attending the event in Viet Nam and witnessing the country's achievements and progress on its path to socialism.