Dak Nong Province should earmark areas for growing cash crops and focus more on growing and preserving forests, General Secretary Nong Duc Manh said during a visit to the province on December 13-14.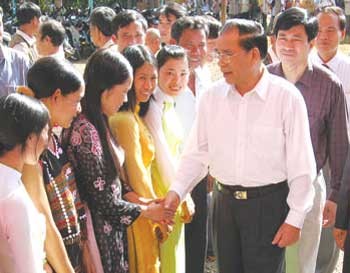 Party leader Nong Duc Manh ( in white shirt ) meets with residents in Dak Glong District, Dak Nong Province, on December 13 (Photo: SGGP)
In Quang Khe Commune in Dak Glong District, he held a meeting with local authorities and heard reports on the district's social and economic development, praising the authorities for the district's good political, economic, and social performances.   
He ordered the district's authorities to work with the Ministry of Agriculture and Rural Development on further allocating forests to local residents to tend and benefit from exploiting them.
The Party leader gave gifts to village elders and others who have made great contributions to the district's development.
He also gave gifts to children.