Party General Secretary Nong Duc Manh has called on cadres and Party members to be more creative and bring into play independent and self-control spirit while thoroughly grasping the orientation of economic development.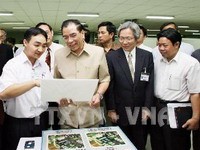 Party Chief Nong Duc Manh (L,2nd) visits Dong Nai province on Feb 24 and 25

The Party leader made the statement while talking with southern Dong Nai Provincial Party Standing Committee during his tour of the province on Feb. 24 and 25.

"It is necessary to clearly define the country's development road - the road of building an equitable, democratic and civilized society for the people and by the people," stressed the Party leader.

He suggested Dong Nai - a province which has been experiencing strong industrial development - ensure a durable and stable life for workers, especially those in the provincial concentrated industrial zones, by paying special attention to their material and spiritual life.

"It is a must to focus on building concentrated industrial zones' infrastructural facilities, particularly accommodation services for workers," he noted.

The Party leader reaffirmed Dong Nai's important position in the country's development scheme and asked the province continue to be a leading locality in the national endeavor for industrialization and modernization, thus helping the country get rid of under-development status.

Being the center of the southern key economic region and adjacent to HCM City, Dong Nai province is also asked to speed up its socio-economic development, thus contributing to the development of the region and the whole nation.

With a growth rate of 14.3 percent, the annual per-capita gross domestic product (GDP) of over 1,000 USD, a foreign direct investment capital of 1.08 billion USD and a domestic investment capital of 5.2 trillion VND and export revenues of 4.3 billion USD, Dong Nai has been one of the country's leading provinces in economic development.