After twelve years of hard work and endless research, the complete set of documents of the Communist Party of Viet Nam (CPV) has been published. The publication provides an accurate, objective and comprehensive account of the CPV since its birth in 1930 and its development up until 1995.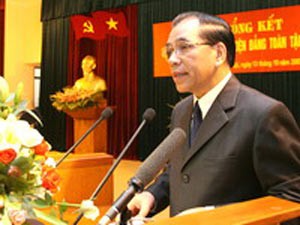 Party General Secretary Nong Duc Manh in the conference yesterday

The book's details were taken from many reliable sources in Viet Nam and Russia. These resources include documents of the Indochinese Communist Party written in English, French, Russian, German and Chinese.

Authors of the said documents consist of Nguyen Ai Quoc (one of President Ho Chi Minh's alias), Le Hong Phong, Ha Huy Tap, and other famous figures.

The Party General Secretary, Nong Duc Manh, expressed his appreciation to the Publishing Council, the Steering Board in charge of the work, and the National Politics Publishing House for their endeavors to complete the collection.

Party Chief Manh also added that this book reflects a century of CPV's leadership and recaps its efforts in leading the nation in the right direction, particularly during the numerous turning points in Viet Nam's history.

The complete set of the CPV documents is a collection of the ideologies of CPV and its practices. "It is a work of paramount importance and great significance to Viet Nam", said Mr. Manh.

The book will be very beneficial to Party members and the general public, and in particular, for young people. "The research and dissemination of information about the history of the Party and its objective viewpoint will help the organization strive for better performance", stressed Mr. Manh. The book also has enormous value as an educational tool.

Party Chief Manh attended a conference in Ha Noi yesterday to review the publishing of the CPV document book collection. In attendance was also former Party General Secretaries, Do Muoi and Le Kha Phieu, former National Assembly Chairman, Nguyen Van An, and many of Viet Nam Communist Party leaders.

The 54-volume 40,000-page "Party documents: Completed Works" will also be made into electronic books, and released in the form of compact discs.