Party General Secretary Nguyen Phu Trong on August 2 had a working visit to the northern province of Ha Nam to inspect socio-economic development, new-style rural area building and Party-building work in the locality.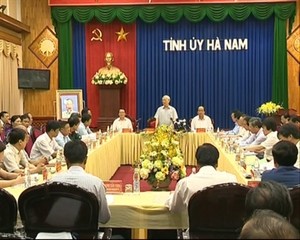 At the event (Source: VNA)
Working with the provincial leaders, the Party leader said Ha Nam should work hard to fulfill set targets as it remains a poor province with low per-capital income.
As a southern gateway to the capital city of Hanoi , the province needs to developing agriculture in combination with processing industry and export while focusing all resources on human resources development, he said.
Party leader Trong asked Ha Nam to enhance connections with other regions in the country to further develop in the future.
He also urged the local authorities to well prepare for Party congresses at all levels towards the 12 th National Party Congress in early 2016.
The province should continue to well implement the Party and political system building work as well as creating a strong and united apparatus that can be resilient to negative phenomena, particularly corruption, the Party chief noted.
According to the local authorities, Ha Nam has enjoyed an annual GDP growth rate of 13 percent. The economic structure has changed in a right direction with the proportion of industry and construction rising to 53 percent and that of agro-forestry-fisheries dropping to 15.6 percent.
The living standards of locals have much improved while the new rural building programme has seen remarkable developments with three communes fulfilling all targets and 11 communes meeting 15 criteria.
Earlier, the Party leader visited Binh Luc district's Vu Ban commune, where 85.5 percent of population live on agriculture, and the Number 1 Ha Nam –Tan Hiep Phat Co. Ltd in the Kien Khe 1 Industrial Complex in Thanh Liem district.