Party General Secretary Nguyen Phu Trong paid a two-day visit to Laos over the weekend during the Lao New Year Bunpimay Festival.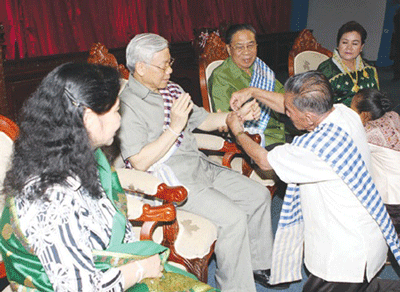 Party General Secretary Nguyen Phu Trong (second, left) and Lao President Chummaly Sayasone attend a ceremony of tying thread around wrists for good luck on Saturday in Laos. (Photo:VNA)
The visit was made at the invitation of General Secretary of the Lao People's Revolutionary Party (LPRP) and President of the Lao People's Democratic Republic, Choummaly Sayasone.
The Vietnamese Party leader extended his best wishes on the New Year to LPRP leader Sayasone in the south-eastern province of Attapeu, along with the former President of Laos, Khamtai Siphandone, in the south-western province of Champasak, as well as local authorities in the two provinces.
At the meetings with Lao officials in the two provinces, Trong thanked the Party, the State and the people of Laos for their warm and friendly welcome.
Also, he expressed the belief that with the leadership of the LPRP, the people of Laos would overcome all difficulties and challenges to gain greater achievements in building a peaceful, independent, democratic, united and prosperous nation.
Trong displayed his happiness about the traditional friendship, special solidarity and comprehensive co-operation between the two parties, two states and the two peoples.
He also confirmed that, in any circumstance, Viet Nam would do its best to help Laos maintain and foster this valuable relationship to pass along to the future generations.
Further, the Lao officials highly praised and congratulated Viet Nam for achievements gained by the Party and the people in previous years.
They thanked them for the support and help provided by Viet Nam to Laos, saying that the Lao Party, government and people would do their best to maintain the nation's traditional relationship with Viet Nam.
Local authorities in the two provinces also informed the Vietnamese Party leader about the social and economic development in their localities, as well as the co-operation between the two provinces with Vietnamese provinces.
During his visit, Trong also visited the Vietnamese Consulate in the Southern Laos region, covering the four provinces of Attapeu, Saravane, Sekong and Champasak.
He met with the Vietnamese community in the four provinces and Vietnamese entrepreneurs who are investing in the region.