Party General Secretary Nguyen Phu Trong hosted a reception for the visiting President of Italy, Sergio Mattarella, in Hanoi on November 6.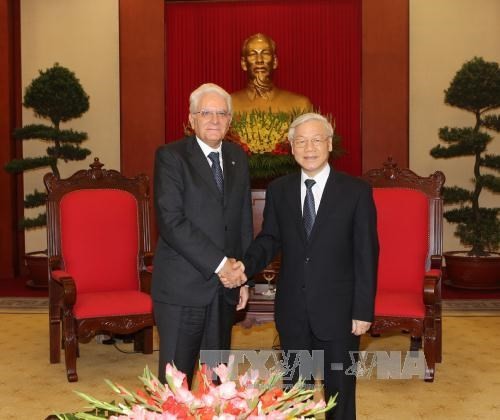 Party General Secretary Nguyen Phu Trong (right) and President of Italy Sergio Mattarella. (Photo: VNA).
Welcoming President Mattarella, the Party leader said that the visit marks a new development of the strategic partnership between the two countries.
Trong thanked the Italian people for their support of Vietnam during the struggle for independence in the past as well as the country's development today and affirmed that Vietnam always treasures traditional ties with Italy.
He expressed his hope to strengthen ties between the Communist Party of Vietnam (CPV) and Italian political parties which would make a solid foundation for Vietnam-Italy cooperation in other fields.
He also spoke highly of Italy's effort to address the impacts of the global economic crisis and common issues that Europe is facing.
For his part, the Italian President said he looks to expand cooperation with Vietnam in all fields, contributing to the closer ties between ASEAN and the European Union (EU).
The two leaders also discussed several global and regional issues of common concern. They agreed that Vietnam and Italy will continue their cordination at multilateral forums towards regional and global peace and development.