Party politburo member To Huy Rua has asked the press to attach importance to increasing professionalism and modernity in order to meet new requirements.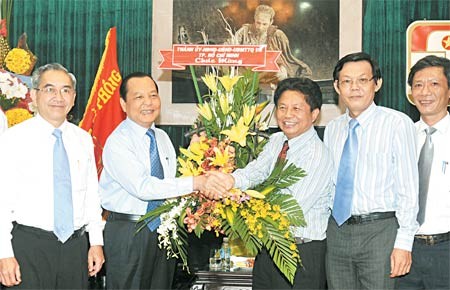 Secretary of the Ho Chi Minh City Party Committee Le Thanh Hai (2nd, L) gives flowers to Sai Gon Giai Phong editor-in-chief Tran The Tuyen (3rd, R) on his visit to the newspaper on June 18 in celebration of Vietnam's 85th Revolutionary Journalism Day (June 21), ( Photo SGGP )
At a ceremony to mark the 85th Revolutionary Journalism Day (June 21) in Hanoi on June 18, Mr. Rua, who is also Head of the Communist Party of Vietnam Central Committee (CPVCC)'s Commission for Education and Information, highlighted Vietnamese journalists' great contributions to the country's revolutionary cause.
Minister of Information and Communications Le Doan Hop said that the press has successfully implemented its communication work, serving as a forum of the people, creating openness and democracy in information and contributing to the struggle for national liberation and construction.
Since the end of the 20th century, the boom in Internet has had a great impact on the press and marked the debut of e-newspapers and portals in Vietnam .
As of December 2009, the country has 706 press agencies with more than 900 publications and 67 radio and television stations. The nation's pay TV system has seen a fast development, with a number of domestic and foreign channels.
The Vietnam News Agency is a national news agency that has unceasingly developed to better meet the demand for timely information, Mr. Hop said.
At a meeting with representatives from press agencies on the occasion, Secretary of the Hanoi Party's Committee Pham Quang Nghi has emphasized that the Party has paid due attention to the press work.
He also said Vietnam's revolutionary press has constantly developed and contributed to the struggle for national liberation and construction as well as promoting the renovation of Hanoi in particular and the country as a whole.

On the same day, Ho Chi Minh City leaders visited Sai Gon Giai Phong (SGGP).

SGGP editor-in-chief Tran The Tuyen said thanks to the city Party Committee's close direction and Sai Gon Giai Phong's endeavors, the newspaper has obtained great achievements.

At this year's press awards, SGGP won 11 prizes including three national prizes and eight city prizes, he added.

Speaking at the visit, Secretary of the city Party Committee Le Thanh Hai said Sai Gon Giai Phong has grown steadily and in proper orientation. The newspaper has been improved in terms of form and content.

The city's leaders highly appreciate the SGGP staff and always have confidence in and expectations of them, Mr. Hai added.