Viet Nam and Chile issued a joint statement at the end of Party General Secretary Nong Duc Manh's visit to Chile, affirming their wish to further their cooperation and mutual support to reinforce bilateral ties.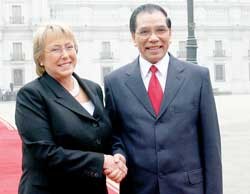 Party Secretary Nong Duc Manh (R) shakes hands with Chilean President Michelle Bachelet Jeria during his visit to Chile from May 25 to 27 

The joint statement highlighted the importance of the two countries' bilateral relations for prosperity, and their resolve to strengthen their ties.

Leaders of the two countries showed determination to implement initiatives that will facilitate long-term cooperation of businesspeople in the fields of mineral exploration, energy, agriculture, fishing and aquaculture, forestry and tourism.

Chilean President Michelle Bachelet Jeria reaffirmed her country's support for Viet Nam's bid for a non-permanent seat in the United Nations Security Council for the 2008-09 term.

In turn, she asked Viet Nam to support her country's candidacy for the position for the 2014-2015 term. Her request received positive approval from the Vietnamese side, the joint statement said.

Chile and Viet Nam agreed to establish an inter-governmental committee to help with the expansion of the two countries' cooperation in new domains, including science and technology and education and training. The two countries signed a document to this effect.

Nong Duc Manh also met with Chilean Vice President of the Senate, Carlos Ominami, Speaker of the House of Representatives, Patricio Walker, and Supreme Court President, Enrique Tapia.

Both the hosts and guest shared the view that the two countries' law-making bodies and judicial agencies should increase the exchange of information and experiences.