A delegation of the Party Central Committee, the President, the National Assembly, the Government and the Vietnam Fatherland Front (VFF) Central Committee visited the Mausoleum of Ho Chi Minh in Hanoi on May 19 in commemoration of the President's 126th birthday (May 19, 1890-2016).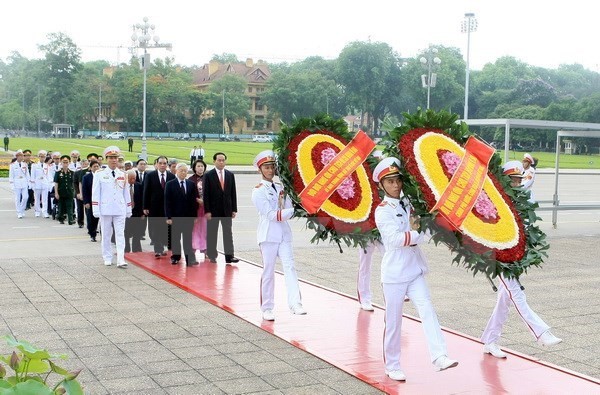 The delegation lays wreaths and pays homage to late President Ho Chi Minh (Photo: VNA)
The delegation included Party General Secretary Nguyen Phu Trong, President Tran Dai Quang, National Assembly Chairwoman Nguyen Thi Kim Ngan and President of the VFF Central Committee Nguyen Thien Nhan, alongside many former and incumbent Party and State officials.
The delegation also laid a wreath at the Monument to Fallen Soldiers.
The same day, the Party Committee, the People's Council, the People's Committee and the Vietnam Fatherland Front of Ho Chi Minh City also held incense offering ceremonies in memory of President Ho Chi Minh at the municipal Ho Chi Minh Museum and the Ho Chi Minh Monument Park.
President Ho Chi Minh was born on May 19, 1890 in Kim Lien Commune, Nam Dan District, the central province of Nghe An. He devoted his full life to the national liberation cause while tirelessly striving for peace and progress in the world. He led the nation to success in the struggle for national independence and establishing the Democratic Republic of Vietnam following the August Revolution in 1945.
The president passed away in 1969.-VNA