The Civil Aviation Authority of Vietnam (CAAV) yesterday decided to ban a male passenger from all flights in six months for slapping a flight attendant.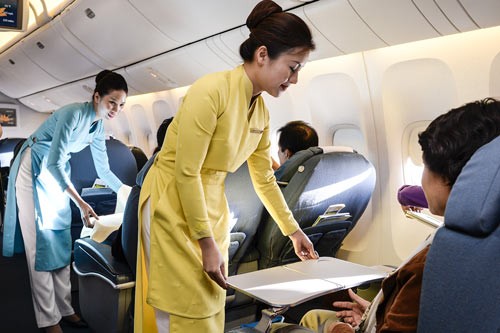 Flight stewardesses of Vietnam Airline (Photo: SGGP)
The incident took place on August 13 as the Vietnam Airline's plane No.VN255 was making its way from Hanoi to Ho Chi Minh City.
As per his report to the CAAV, Mai Thanh Binh aboard a Vietnam Airlines' business-class said that he had slapped the flight attendant's face because he suspected her of thieving his iPhone 6 Plus. The phone was eventually found 20 minutes later under his seat.
The case was reported to the authority and CAAV issued an administrative fine of VND15 million (US$670) on the rude passenger. Passenger Binh admitted his acts and agreed to pay the fine.
The flight stewardess asked for three- day work leave for spiritual injuries incurred by the assault.