Traveling on rivers in the Mekong Delta has become chaotic and deadly dangerous with many passenger boats whizzing around at speeds of up to 90 km as they compete for passengers, Sai Gon Giai Phong found.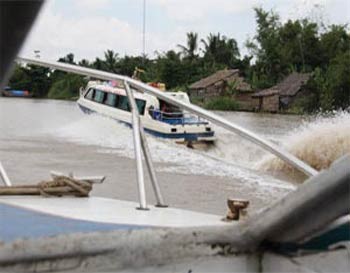 Two express boats race for passengers on the Hau River in the Mekong Delta (Photo: SGGP)
Sitting on a 25-seat express boat from Can Tho to Ca Mau, the newspaper's correspondents witnessed a race with another boat when the two met in the Hau Giang Province section of the Hau River.
Many passengers panicked when the two boats traveled at high speeds, with their prows rising high, through fairly heavy traffic.
In response to complaints by worried passengers, some of whom were sick, the pilot, L.,  said: "When we reach this area, we have to compete fiercely for passengers or else we will get no one."
The boat's chief mechanic said: "It normally takes three and a half hours to get to Ca Mau, but at 80-90 km speed instead of the normal 40-50 km, the boat will get there an hour early."
There were some horrible moments when the two boats seemed set to hit each other.
When the boat reached Soc Trang, many women passengers, who no longer wanted to endure such trauma, asked to be put on other boats. The pilot said glibly: "Set your mind at rest. We are not as fast as some other boats."
When SGGP told the pilot that such racing could cause accidents,  he said: "I cannot remember how many vehicles have sunk, but fortunately many passengers have saved themselves by swimming to shore."
The irrational schedule of the express boats is partly to blame for this dangerous situation.
Most express boat wharfs give priority to some businesses -- for instance, in Can Tho, L.A. company's boats are allowed to have a monopoly for three hours during the morning rush hour before others can join in.
Through the day, boats depart too close to each other, forcing them to race each other.
"Since provinces in the delta have yet to set up common operations, boats from various provinces run on the same route and at the same time. Severe competition is inevitable," said a boat owner on the Ca Mau – Can Tho route.
The Southern Inland Waterway Sub-Administration has repeatedly warned provinces for the past several years about the chaotic operation of passenger express boats and told them to improve the situation.
On September 10 the deputy head of the agency, Vo Trung Ta, sent a dispatch to official agencies in the delta provinces to closely monitor the operations of express boats to ensure safety.
But the provinces have yet to achieve any coordination.