Deputy Prime Minister Hoang Trung Hai has requested more effective and innovative action in building a consumer culture within the Vietnamese people to patronize only Vietnamese-made goods.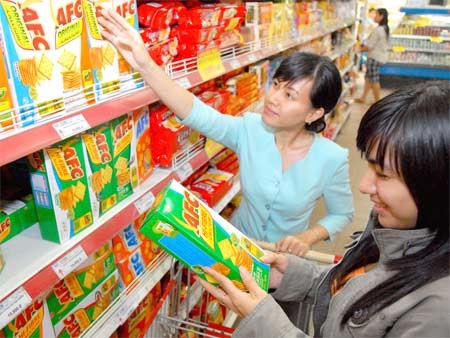 Shoppers checkout Vietnamese brands at a supermarket on Cong Quynh Street in District 1, Ho Chi Minh City (Photo: SGGP)
He made the request at a meeting in Hanoi on June 7 while reviewing the "Be Vietnamese buy Vietnamese-made goods" campaign in the first five months of this year and find ways to step up the campaign until the end of the year.
 
The Deputy PM applauded the central steering board of the campaign for their effective and focused work.
 
He said that their achievements had contributed to the successful implementation of the Government's Resolution No.11 on curbing inflation, stabilizing macro-economy and ensuring social security.
"The campaign is a very important factor in turning the country into an industrialized nation by 2020," he added.
The Deputy PM said that domestic production had not met public demand, leading to an imbalance in import and export, particularly in equipment and spare parts.
The country has enormous potential for developing production, he said, adding that when consumers give priority to buying Vietnamese goods, local enterprises will have to focus on improving quality of goods.
Deputy PM Hai said the campaign urging Vietnamese citizens to use Vietnamese goods is a long process since it involves building a consumer culture in the Vietnamese people to patronize domestic-made goods.
 
Mr. Hai said that manufacturers and suppliers must improve their production capacity and competitiveness to garner citizen support for buying Vietnamese brands. Citizens in turn must also support indigenous products.
 
Relevant agencies must tighten management to ensure enterprises make products of high quality, prevent smuggling and production of fake and poor quality products.
Participants at the meeting agreed that it was imperative to promote the campaign even further to encourage everyone to patronize Vietnamese products.
 
They felt that more activities were needed to move the campaign forward, like managing the local market to protect Vietnamese goods and expanding the distribution network of Vietnamese goods to rural areas.