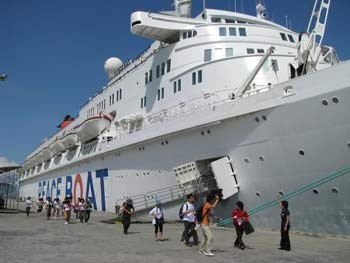 Peace Boat arrives at Tien Sa Port in Danang City on September 1. (Photo: SGGP)
More than 450 pacifists from around the world September 1 arrived at Tien Sa Port in Danang City on 'Peace Boat,' which recently left Japan.
They visited Ngu Hanh Son (Five Element Mountains), the Champa Museum, Hoi An Ancient Town, the UNESCO world heritage My Son Sanctuary, and shopped at Han and Con markets.
During the two-day stay, Hibakusha people – victims of the atomic bombings of Hiroshima and Nagasaki – will meet with Vietnamese Agent Orange dioxin victims and joined many activities with members of the city's Youth Union.
This is the 31st time Peace Boat has visited Danang. It will leave the city this evening to continue its 67th journey to18 more countries.
In related news, Tien Sa Port welcomed 700 tourists from the UK, France, Italy and Spain on the Italian liner, Costa Allegra, on August 31.
Peace Boat is a Japan-based international NGO organization that works to promote peace, human rights, equal and sustainable development and respect for the environment. It seeks to create awareness and actions based on effecting positive social and political change.
It carries out its main activities through a chartered passenger ship that travels the world on peace voyages. The ship creates a neutral, mobile space and enables people to engage across borders in dialogue and mutual cooperation at sea, and in the ports that it visits.