More than 2000 war veterans, young people and embassies' representatives in Ho Chi Minh City participated in a walk for peace yesterday.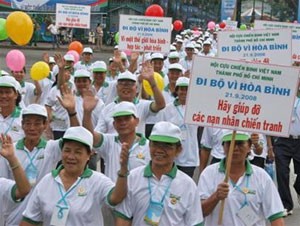 Veterans take part in the walk for peace in Ho Chi Minh City on Sunday, Sept. 21, 2008
Organized by the War Veterans Association of Ho Chi Minh City on the occasion of Peace Day (September 21), the walk raised USD 22,300 and VND 350 million (for a total of about VND 750 million) to support the 27-7 Fund and Agent Orange victims.
The walk began from the zoological and botanical gardens in District 1 and proceeded through the streets of Le Duan, Dong Khoi, Le Loi and Pasteur before concluding at the same place.
Participants held banners with slogans proclaiming: "Veterans Walk for Peace"; "Co-operating for a Peaceful, Developed World"; and "Helping War and Agent Orange Victims".
On the same day, a similar walk also took place in Ha Noi with the participation of over 1,000 war veterans and local people.