The People's Committee in the central province of Quang Nam had announced a project in 2009 to resettle residents from the coastal district of Duy Xuyen, which has still not been undertaken, causing huge inconvenience and distress to local residents.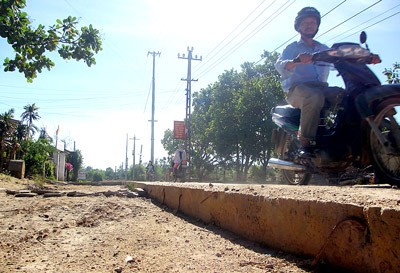 The incomplete Road DH6 in Duy Xuyen District of Quang Nam Province (Photo: SGGP)
Construction of Road DH6, the main road in Duy Nghia Commune, was delayed on account of the resettlement project. The incomplete road, which is only partially paved in sections, is a hazard to travel on especially during the rainy season.
Nguyen Huu Cong, a resident from the commune, said that in the rainy season the road becomes flooded and in some place there is no trace of any road as waters cover the area, making it even more dangerous for people to commute.
The slow implementation of the project has affected 10,000 residents of Duy Nghia Commune as they cannot build houses on their land or mortgage their properties for loans.
The eldest son of Vo Thi Vuong in Thuan An Hamlet is about to get married and she wants to build a house for him, but local authorities will not allow her to as her land is coming under the resettlement project.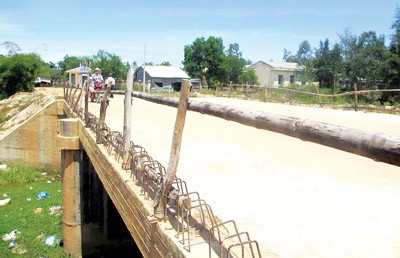 A temporary bamboo railing lines the edge of the bridge (Photo: SGGP)
Phan Thanh Son from Hamlet 5 also cannot repair his house or sell his land for the last three years, due to the pending project. 
Nguyen Tan Nam, chairman of the People's Committee of Duy Nghia Commune, said that nearly 10,000 residents living in an area of about 1,340 hectares, of which 377 hectares is farm land, are planning to disconnect from the project as compensation and site clearance is taking so long.
Besides, most of the local people are involved in farming as their means of livelihood and by losing land to the resettlement project many will feel the shortage of cultivable land, said Nam.