To bring joy to disadvantaged children on the occasion of the upcoming Mid-Festival (October 3), businesses, organizations and agencies nationwide are taking gifts to children living in orphanages, centers for children with disabilities and children being treated in hospitals.


In Ho Chi Minh City on September 20, Huynh Van Khanh, chairman of the of Board of Directors and general manager of New Technique, visited the Center for Disadvantaged Children, 38 Tu Xuong Street, District 3, to donate 300 3D lanterns to the orphans and disabled kids.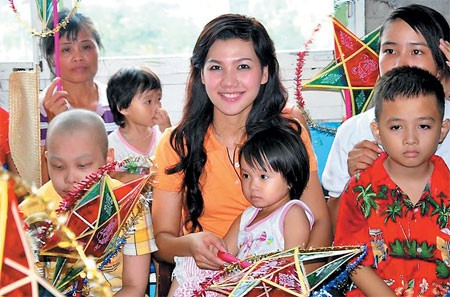 A representative of Maritime Bank and some patients at the Oncology Department of the Vietnam National Hospital of Pediatrics (Photo: SGGP)
Earlier on September 13, representatives from the company also visited Thien Duyen Center for Disabled Children in Phu Hoa Dong Commune, Cu Chi District, to donate gifts to 120 children who are deaf and mute or have cerebral palsy.

In Hanoi on September 17, representatives from the Maritime Bank and Mai Phuong Thuy, Miss Vietnam 2006, paid a visit to the Vietnam National Hospital of Pediatrics to present gifts to 80 children who were undergoing treatment at the Oncology Department.