So far, some 15,000 passengers have passed through the Sai Gon Train Station on their way from Ho Chi Minh City to other parts of the country for Tet.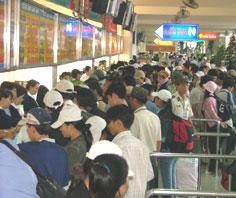 People buy tickets at the Sai Gon Train Station (Photo: Lao Dong)

The Vice Chief of the station said they are still selling tickets, so passengers can easily get a seat at one of the station's ticket booths. All that's needed is an identity card.

He added that a new departure lounge with luggage trolleys for passengers and wheelchairs for the handicapped has been put into operation.

The Mien Dong Bus Station is overloaded with passengers returning to their hometowns, especially in the Northern provinces and cities.

It is expected that the station will process in excess of 70,000 passengers over the course of the holidays.