The People's Committee of Bac Tra My District where a craking dam is located in central province of Quang Nam has requested for an early warning signal on oncoming earthquakes, so as to be better prepared.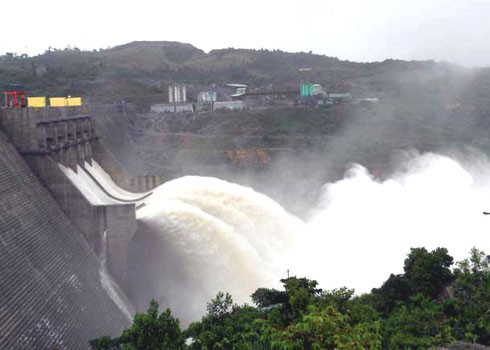 The file photo shows water flowing through Song Tranh 2 hydro-electric power plant dam during heavy rains in September.
This request was made after the devastating consequences of a 4.6 magnitude earthquake that occurred on Monday, the strongest so far in Bac Tra My District. The Earthquake Information and Tsunami Warning Center of the Institute of Geophysics only sent out a bulletin about two hours after the earthquake had already occurred.
Dang Phong, chairman of the People's Committee in Bac Tra My District, said that the quake forecast was too delayed and did not allow time for local residents and authorities to make any preparations.
The 4.6 magnitude earthquake on Monday caused major cracks in residential houses and public works in the district.
Associate Professor Nguyen Hong Phuong, deputy director of the Earthquake Information and Tsunami Warning Center, said that the first quake observation station has been installed and in operation near the Song Tranh 2 Hydropower Plant.
Another four stations are being installed in Quang Nam Province, so that more information and data will be analyzed faster and more accurately.
Dr. Phuong said that the quake observation stations will provide accurate and timely data, and not delayed analysis or forecasts. The ability of those processing the data will decide if the forecasts are being given in time or late.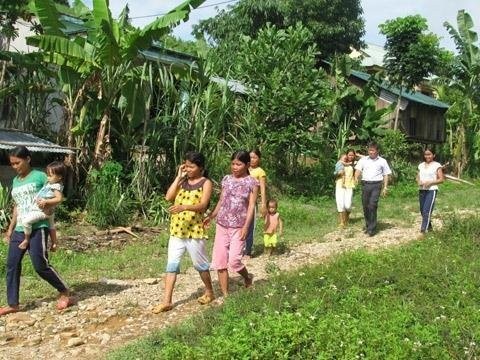 Inhabitants rush out of their houses during earthquakes on Oct. 22, 2012 in Bac Tra My district of Quang Nam province.


The stations will be able to inform about oncoming earthquakes much faster, but they will have to follow strict regulatory procedures set by the Government.
Local residents and authorities will not now have to wait for outside information and warnings of earthquakes. However, they need to become far more proactive in coping with such occurrences and protect against sudden disasters as best as possible.
The Institute of Geophysics will try to send related bulletins faster in future to local residents and authorities.
Earthquakes are being attributed to water accumulation at the Song Tranh 2 Hydropower Plant reservoir. This phenomenon will continue to increase in intensity and the frequency is still to reach its peak before it begins to gradually reduce. Hence, strong quakes can continue to be expected in Bac Tra My District.