The Vietnam Red Cross Society (VRCS) and Ho Chi Minh City yesterday supported VND1.97 billion (US$ 88,519) and VND10 billion (US$ 449,337) respectively for residents in four flood-hit provinces which about tens of thousands of houses completely submerged under water.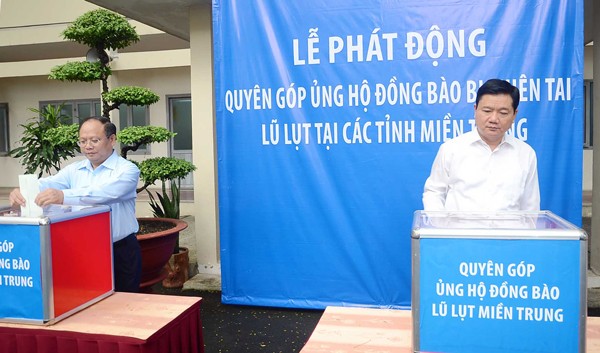 Ho Chi Minh City Party Secretary Đinh La Thăng (R) and Deputy Party Chief of Tat Thanh Cang donate in response to the calling for the help of residents in the central Vietnam (photo: SGGP)

Four flood hit provinces include Nghe An, Ha Tinh, Quang Binh and Quang Tri.
Accordingly, the VRCS will give cash of VND1 billion (US$ 44,933); essential items; 300 devices to repair houses; 70,000 Aquatabs water purification tablets for killing micro organisms in water to prevent cholera, typhoid, dysentery; 200 water filters, and 100 containers of soap.

The mission team will give VND3 million to families of those relatives died in the flood while other families will be provided with essential items or cash of VND500,000 each to buy food and other things. The team arrived in Ha Tinh and Quang Binh to provide relief on October 17.

Deputy Prime Minister Trinh Dinh Dung who is Chairman of the National Committee for Search and Rescue liaised with administrators of Quang Binh Province on October 16 night about measures to relieve consequence of the flood and coping with the upcoming Sarika typhoon, adding that the government will provide rice as famine relief urging localities to report the needed amount.

The Ministry of Health sent its urgent dispatch to the departments of health and facilities in the sector in the North Central region urging to adopt medical activities to help residents. It should plan to remove medical institutes out of the flood hit areas to protect patients and devices.

Health institutes must implement environment protection missions, food safety, take precaution against diseases such as dengue fever, diarrhea and pink eye as well as help relevant agencies give food, essential items and environment disinfectants to local residents.

Medical workers must be ready to give emergency treatment to residents in the flood-hit areas. Additionally, medical companies Danameco, Pharmaceutical Company TW 3 medical device Medinsco are asked to provide 327 lifejackets, medications and 100,000 Cloramine B for people in Quang Binh, Ha Tinh, Nghe An and Thanh Hoa provinces.

Chairman of Vietnam Fatherland Front in Ho Chi Minh City Nguyen Hoang Nang called for the contribution of organizations, enterprises and benefactors for people in the flood hit provinces.

Donations should be sent to the fatherland front's headquarter at 57 Nguyen Thi Minh Khai in district 1, or transfer to bank account 0008704060014 of Saigon Bank at its branch Ky Hoa, he added.