The temperature in central provinces over recent days has been hovering around 36-38 degrees Celsius in the shade. In some places this has risen to 39 degrees.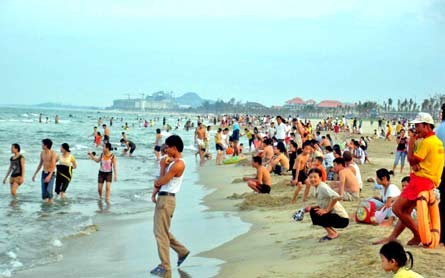 The hot, muggy weather has led to beaches being swamped with people trying to escape the searing heat. (Photo: SGGP)
Hot spell
Summer has arrived early in the central provinces of Ha Tinh, Quang Binh, Quang Tri, Quang Nam, Binh Dinh, with temperatures topping 39 degrees on April 18.
Thousands of people in Da Nang have been flocking to the beaches early in the mornings and late afternoons to evening. There are reports that its beaches are full by 4am.
Usually, only travelers visit the beaches, but now residents and university students are also attracted to the cool sea air.
The scene is repeated on beaches around the central region.
Beach businesses enjoy rise in numbers
The numbers of people going to the beaches has led to increased consumer needs.
Some shops on the beaches did not have enough chair and rubber tube for rent. Even though the price of renting a rubber tube is VND3,000-5,000, it takes just 10 minutes to rent out 50.
Many restaurants near beaches have also been crowded. Some of have taken to the roadside to increase space for more customers.
Lifeguards
To ensure safety, beaches in the Son Tra peninsula and Da Nang City have set up lifeguard teams. However, with thousands of people swimming in the sea everyday, the teams simply do not have enough people.
Currently, only 67 lifeguards are on duty on Da Nang's beaches.
During the short spell of hot weather, five people have already drowned in Da Nang, with many other such deaths being reported in Quang Nam, Quang Ngai and Hue provinces.
The National Hydrometeorology Centre forecast that the hot weather will continue till the end of this week, especially in the central region, and subsequently return very soon. Storms are expected between the lulls in hot weather.