The People's Council of the expanded Hanoi opened its first session on August 1 – the first day the capital city's administrative boundary officially expanded to encompass Ha Tay Province and parts of neighbouring Vinh Phuc and Hoa Binh provinces.
National Assembly Chairman Nguyen Phu Trong said the session is an important event, marking a milestone in Hanoi's development history.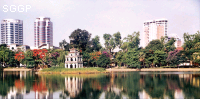 Hoan Kiem lake in Hanoi
The legislative leader asked the city to quickly draw up its urban zoning scheme and socio-economic development strategy, along with paying more attention to environment protection, cultural heritage conservation and improving living conditions.
Municipal Party Committee Secretary Pham Quang Nghi urged branches and agencies to further push up administrative reform, strengthen the fight against corruption and wastefulness, ensure transport and food safety and increase vigilance over epidemics.
During the session, participants heard the National Assembly's resolution on the adjustment of the Hanoi administrative boundary that triples the capital city's geographical size and doubles its population .
The participants adopted a resolution on the 164-member list of the new Hanoi People's Council, which was made on the basis of combining with the former Ha Tay Province People's Council.
Ngo Thi Doan Thanh, chairwoman of the former Hanoi People's Council, was elected chairwoman of the new council.
The council elected Nguyen The Thao, chairman of the former Hanoi People's Committee, chairman of the expanded city's People's Committee.