The US Government and American chemical companies must pay compensation to Vietnamese victims of Agent Orange and clean up the toxic residue the Americans left behind at a number of locations in Vietnam, the International People's Tribunal of Conscience said following a two-day hearing starting May 15 in Paris.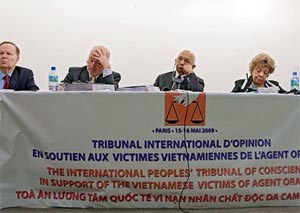 The International People's Tribunal of Conscience holds a hearing in Paris May 15-16 to support Vietnamese dioxin victims

For the sake of peace, both sides should work to clean up the chemical, the "last ghost of the Vietnam War," Senior Lieutenant-General Nguyen Van Rinh, president of the Vietnam Association of Victims of Agent Orange (VAVA), said at a conference held in Hanoi on May 27 to notify the tribunal's judgement.
 
"To claim justice for Vietnamese victims of AO is an indispensable part of the healing of the wounds of war," Mr Rinh stressed.
He said the Tribunal had concluded: "the chemical war conducted by the US in Vietnam was in violation of international law. The American Government and chemical companies must be responsible for the chemical war that destroyed Vietnam's environment, and affecting 4.8 million people.
 
"The US administration during 1961-71 was the instigator and its accomplices were American companies that produced the dioxin and supplied it to the US army for use in Vietnam."
In an interview to the Vietnamese media, US Rep. Eni F. H. Faleomavaega expressed discontent about the fact that the US has not addressed the AO issue in Vietnam, one of the blackest pages in its history.
He is chairman of the Subcommittee on Asia, the Pacific and the Global Environment under the US House Committee on Foreign Affairs, which will conduct a hearing in Washington D.C. on June 4 on the impact of AO in Vietnam.
"Using chemicals was one of the bad decisions Washington made during the war," the Congressman said.
He called on Vietnamese victims to remain patient while waiting for the problem to be resolved, since "it cannot be accomplished overnight."