This year, the Viet Nam Union of Friendship Organisations (VUFO) will focus on promoting people-to-people diplomacy and calling for more non-governmental assistance as well as the combined strength of the whole nation.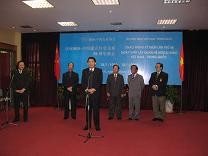 VUFO organized a friendly meeting between Vietnamese and Chinese officials on Jan. 16 to celebrate the 58th anniversary of diplomatic establishment of the two countries (January 18,1950 - January 18, 2008).
The main tasks of VUFO were affirmed at a meeting of the Presidium of VUFO to review its work in 2007 and discuss an action plan for 2008, in Ha Noi on January 19.
VUFO will continue to accelerate the national programme on calling for from non-governmental organisations (NGOs), especially organisations in Western Europe, North America and Japan . It also plans to launch various activities and urge overseas Vietnamese to contribute to poverty alleviation, mitigation of war consequences and local sustainable development, especially for poor and remote areas.
Besides efforts to develop intensive relations with people in ASEAN countries, Japan, the Republic of Korea, the Democratic People's Republic of Korea and traditional friends in Europe, VUFO will actively seek for support for Vietnamese Agent Orange victims; and contribute to promoting multilateral people-to-people diplomatic activities.
Last year, Viet Nam received US$251 million in aid from NGOs, a US$35 million increase over the previous year. Large NGOs, including AP, Bill & Melinda Foundation, Bill Clinton Fund, Plan International, Oxfam UK and Orbis International have inquired into possibilities to expand cooperation with and give aid to Viet Nam .
NGOs have paid more attention to legal support for underprivileged people, including the poor and the disabled, as well as environmental protection and rural infrastructure construction.