Vietnam exported 20,000 tons of pepper in July, taking the year-to-date volume to 82,000 tons and earnings to US$446 million.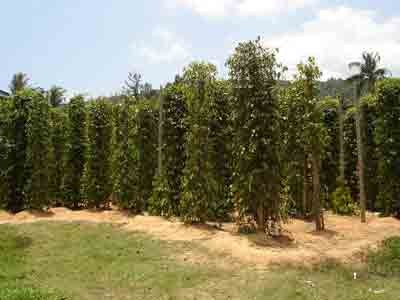 Pepper plants in the Mekong delta province of Kien Giang's Phu Quoc Island (Photo: U. Phuong)
The volume was down from the same period last year, but the turnover was higher than the full-year figure of $421 million in 2010, the Vietnam Pepper Association said.
Pepper output for this year was estimated at around 100,000 tons, already 82,000 tons exported, 10 per cent lower than last year, the association said.
Ngo So Minh, director of southern Binh Duong Province-based pepper exporter Ngo Gia Co Ltd, said the average export price for Vietnam this year has been US$5,114 for a tonne of black pepper and US$7,442 for white pepper.
In the first half of July it neared $5,950 while the spot price at the New Delhi exchange last weekend was US$6,500, he said.
In the domestic market, pepper cost around VND111,000 per kilogramme last weekend, and VND115,000 in southern Dong Nai Province, he said.
"œThe upcountry stockpile is very low these days, at less than 20,000 tonnes. So exporters have to compete with each other to get pepper at an extremely high price," he said.
Le Duc Huy, manager of a pepper exporter based in the Central Highland province of Dak Lak, said due to the high prices in the local market, exporters need more funds.
"High interest rates on bank loans and tightened credit have hindered our pepper business," he said.
"No one would like to buy large volumes of pepper and sit on it. It is very risky."
Huy said another 20,000 tons would to be harvested this year.
"The pepper market will face a tough time once Vietnam stops selling at the end of the season," he warned.