A tanker carrying petrol hit against a mountain, overturned and burst into flames as it proceeded towards Da Nang - Hue on Highway 1A on Tuesday.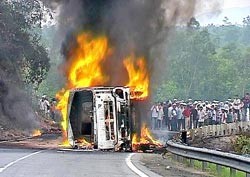 A tank carring petrol overturned and burst into flames.
A witness says the accident happened at around two in the afternoon about 100m into the Phuoc Tuong Mountain Pass in Thua Thien Hue province. The fuel flowed out of the truck and caught fire soon after.
There were three people in the tanker, but they ran away as the truck burned.
It took an hour for firefighters from the central province from the Hai Van pass to reach the scene. It was not until 5pm that the fire was brought under control.
The fire caused traffic jams on the pass with thousands of vehicles unable to move either way.
The tanker is owned by Hung Phat Company in Quang Binh province.
Authorities are investigating the case.