The Vietnam Oil and Gas Group (PetroVietnam) organized the second Patriotic Emulation Congress and received the Golden Star Order, the State and Party's highest distinction, in Hanoi on June 13.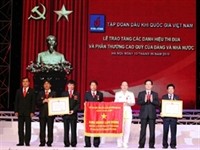 The Vietnam Oil and Gas Group receives the Golden Star Order on June 13
The event was attended by Prime Minister Nguyen Tan Dung - chairman of the Central Council for Emulation and Awards, former State President Tran Duc Luong, head of the Party Central Committee's Commission for Propaganda and Education To Huy Rua, National Assembly vice chairman Nguyen Duc Kien, ministers and over 1,000 deputies representing 35,000 PetroVietnam staff.
In his speech, PM Dung praised and congratulated generations of the country's petroleum industry for implementing patriotic emulation movements and fulfilling set targets, which have positively contributed to national liberation, unification for development and international integration.
He asked the industry to continue achieving, implementing their assigned duties and to maintain patriotic emulation movements as strong motivation for building and developing the industry.
The PM called on PetroVietnam to make effective use of capital and natural resources, while protecting the environment, continuing to upgrade technology, intensify training, business and production, practice thrift, combat corruption and improve the cultural and spiritual lives of its staff.
On this occasion, PM Dung presented the Golden Star Order to PetroVietnam and conferred the title of Labor Hero on the Oil and Gas Technical Service Joint Stock Corporation and Mr. Truong Van Tuyen, head of the Management Board of Dung Quat Oil Refinery and president of Binh Son Refinery and Petrochemical Company.
NA vice chairman Nguyen Duc Kien bestowed the Third-Class Independence Order to four PetroVietnam collectives.
From 2006-2010, PetroVietnam has implemented 739 initiatives for technical renovation, which have benefited the oil and gas sector and the country by more than US$68 million.
Through practicing thrift, PetroVietnam has saved more than VND2,570 billion.
PetroVietnam, Vietnam's leading economic group, earns more than US$110 billion annually, contributing 18-20 percent of the national GDP, 28-30 percent of the State Budget and 15 percent of the country's export turnover.