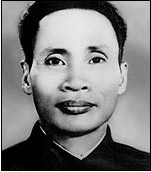 Late Prime Minister Pham Van Dong

The scientific conference was attended by nearly 100 senior revolutionaries, historical scientists and cadres who used to work with Pham Van Dong.

The late Prime Minister's achievements and great prestige were discussed at the conference. He was also respectfully complimented, especially by the leading participants. Here are some, among many.
Associate Professor, Dr To Huy Rua – Member of the Party Central Committee, Director of Ho Chi Minh National Political Institute

"He Was a Prestigious Leader and a Steadfast Communist "

Pham Van Dong held a great responsibility in the Vietnamese Government and the Party's Central Committee. During his 32 years as Prime Minister, Pham Van Dong concentrated much on the development and strengthening of the national government system. The Prime Minister used to say that the public themselves must take part in state activities at all levels, and be able to cope with their own problems in accordance with the Constitution and law.

He also paid much attention to nurturing and training party members in accordance with Ho Chi Minh ideology. He used to compare the education of the party member with the care for a tree to grow fruitfully and healthily. The late Prime Minister was heart-broken when seeing bureaucracy and embezzlement gradually turning into "national problems". He once confided, "I think our national home is now geting polluted with the unhealthy, raising in the public a legitimate fury. In such a situation, our foremost task is to clean up the home and clear away all the contaminants to recreate healthy space and conditions." The late Prime Minister's sense of responsibility and directions in those days are now as well to date and suitable as ever and really significant in the development of our Party.

Prof.Dr. Phan Ngoc Lien – Ha Noi University of Education.

He Enriched Ho Chi Minh Ideology on Education.

Pham Van Dong inherited and enriched our President Ho Chi Minh's ideology, both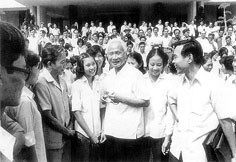 Meeting with people in Ho Chi Minh City in 1985.
in theory and in practice. According to him, "education plays a very important role not only in contributing to a person's career but also in building a nation's history". Talking about the improvement of our education system, he stressed on two major concerns in general education: the overload of educational programs and private classes.

In his articles, Pham Van Dong discussed much about a common teaching methodology in general and high school & university teaching methods in particular. He also predicted that teaching would strongly be developed with modern multimedia applications, which leads the science of education to "one of the top ologies in any country at any period."

Associate Professor, Dr Hoang Trang – Ho Chi Minh National Political Institute

Pham Van Dong - A Successful Performer of Ho Chi Minh Ideology
He was an outstanding follower of President Ho Chi Minh. His life was a lively realization of President Ho's ethics: diligence, thriftiness, incorruptibility, righteousness and public-spiritedness.

As the head of the government, he took care of the country's production and life with a sense of diligence and thriftiness. In labor, he asked others to economize time as well as materials while ensuring the quality and continual growth of labor productivity. At work, he himself was an example of diligence and public-spiritedness. He used to tour all the departments in the Prime Minister's Office every morning before starting his own work to make sure everything was in order.
Pham Son Duong, son of late Prime Minister Pham Van Dong.

"I understand my father from a son's point of view. Like other children, I needed parental love, and my father was my entire world, especially when my mother unfortunately died of sickness in my childhood. My father was very strict to me though he loved me ever so much. A story happened years ago, but up to now, memories of my father's anger at my mistake are still very clear in my mind. He was then purple with rage, pacing up and down the room, which put me over in a sense of reverent awe. But, the next morning, he called me over and embraced me in his arms, saying that he was so sorry for his anger and tenderly explained what my shortcoming was."
"During over half a century of our friendship, we often exchanged and discussed much with each other on all issues. When he no longer held the position as adviser of the Party Central Committee, we had more time together and often talked about Ho Chi Minh Ideology. He hoped that the Ideology would enlighten everyone, especially every Party member. Ho Chi Minh Ideology lays emphasis on humans; therefore, in my opinion, talking about Pham Van Dong means talking about his ethics: simplicity, honesty, righteousness and love for his associates and people."
General VO NGUYEN GIAP

(An excerpt from the book "Pham Van Dong in the hearts of Vietnamese people and international friends")