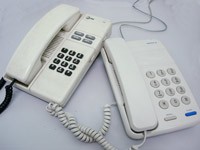 Phone service is suspended if clients do not pay within 7 days of the receipt of the bill (Photo: T.C.)
The Viet Nam Post and Telecommunication Corporation (VNPT) announced new regulations on telephone subscription fees while the service is temporarily suspended.
Accordingly, the post office will temporarily suspend the telephone service if clients do not make payment within 7 days upon the receipt of the bill. And there is no subscription charge during the temporary suspension, which can last up to six months.
For subscribers who wish to block the outgoing call, the subsciption fee is reduced to 50% (the full subscription being VND 27,000 per month). On the other hand, the fee is still 100% in case that the clients want to block incoming calls only.