Wearing her most beautiful dress, Vu Thi Vu smiles broadly as she shows to her friends one of her photos which are on display at the Can Chu Phin secondary school in Meo Vac district of northernmost Ha Giang Province.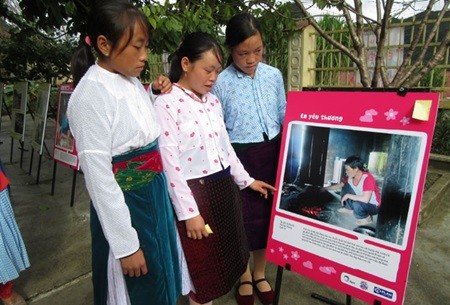 Vu Thi Vu (center) shows her friends one of her photos on display at Can Chu Phin secondary school in Meo Vac District, Ha Giang Province. — VNS Photo Bach Lien
Her photo portrays a man holding a hammer to smash the stones on a large land. "It's my brother. He will build a new house. Because the soil here is full of stones, he has to smash them to smooth the surface," she proudly explains the photo to her friends standing nearby.
The 18-year-old Mong ethnic girl living in the mountainous remote district of the poorest province of the country had never held a camera before. Only six months ago, she only held a camera to take a picture for the first time. Now, she knows how to take a good picture, and how to tell stories behind the pictures to other people.
The young girl is happy to discover a new artistic world.
Vu took part in the PhotoVoice project with 34 other Mong ethnic young people, aged from 13 to 18 years old, most of them girls, living in Can Chu Phin commune.
Half of them are students at the Can Chu Phin secondary school. The remaining members already quit school or never went to school.
The project which started in May, has been organised by the Institute for Studies of Society, Economy and Environment (iSEE) and Plan International with local authorities in Meo Vac District. This exhibition "I Love the Stone Plateau" was part of the Action for Mong Children series of events and shows how children perceive and reflect the world with their own eyes.
They were given a camera for six months and took pictures of everything they wanted to tell other people about the daily life of Mong people in their commune.
The eighty photos on display at the school have been touching as it's the first time the children are willing to share their sincere thoughts to the public which were, for a long time, kept secret in their minds.

Becoming much more open to other people, the children were ready to talk about their inner thoughts and dreams to the community.
The difficult lives of the Mong people in the commune were clearly featured in the photos. Since their land is full of stones, local inhabitants can only grow corn on the fields, and breed goats.
Sung Mi Cha, deputy Chairman of the people's committee of the Can Chu Phin commune says that the commune houses 1,030 households, of which 48,6 per cent are poor households. Most families plant corn and grass to feed cows.
Only 10 per cent of households have gotten out of poverty thanks to the breeding and trading of cows.
Thanks to the State's support, children have better conditions to go to school. However, some can not go to school and many in the commune can not attend high school.
The young people expressed their simple dreams. Many dream of going or coming back to school. Many children here had to quit school after they finished the ninth grade because the high school is too far away from their house. Moreover, as they become the major labour force at home, they have to stay at home to help their parents work in the field, at home and look after the younger brothers and sisters.
They dream that the family could have a motorbike to carry heavy loads of grass to feed cows, so that their mothers can stop carrying them on their backs for a long distance.
They dream that each household has a water tank, so that they do not have to travel a long distance to find stream water or wait for the rain water to bath with.
They wish that their daily meals can be improved and they can eat meat and fish more often. Now every day, they can only eat men men (cooked corn powder), vegetables and chilli. They can only eat meat when their families welcome invitees. They can only eat meat once a month.
They also want to have more clothes and toys.
Vu Thi Sung, 13 year old, another girl whose photos are on display, said with joy: "I showed the pictures I took to my parents and they said they were beautiful. At first I found it very difficult to take pictures. I did not believe that I could use a camera. But now I know that I can do it," Sung says with an innocent smile.
"Taking part in this programme makes me feel more confident and happy," she said.
Shy girls, Vu and other girls were often hiding their faces with their hands when they met strangers. They also refused to talk to strangers and ran away when a stranger wanted to take a photo of them.
Now they have become open, smiling, and say hello to their teachers when they see them from a distance. At the opening ceremony of the exhibition, they performed at ease on stage after learning how to dance from a video found on the internet.
To help those young teenagers, a group of Mong students from Meo Vac District who have studied at different universities in Ha Noi come back to the commune to train them in the art of taking photos and making radio communications.
Vu Phuong Thao, deputy director of iSEE explains that the group has contributed largely to boost the confidence of the young.
"When those children and teenagers meet with those students of their community who have gained some success in their studies and life, they have admired them. And they think that they will be able to do many things like them," Thao says.
"It has been proved that the best help comes from the community itself," she adds.
Giang Thi Minh, one of the volunteer Mong students in the group said that she was surprised to see how the young girls had become.
"They are at ease when they sing, dance and take pictures. I remember the first time when I met them and said hello to them, they were very shy and moved quickly to another place. I was worried that it would be difficult to work with them. But after some months working with them, I was nicely surprised that they have become much more open. Now when seeing me, they run towards me and talk with me like good friends, or members of the family."
"The most important thing is that they become much more confident and believed that they could take good photos if they got training," Minh says.
Being touched to see the dreams of going to school of the children which were expressed through photos, Hoang Thanh Hai, headmaster of the Can Chu Phin secondary school says his school has thought of a programme to eradicate illiteracy to help young people who can not afford school.
"I understand more the dreams of the children with their photos. I am touched to see their energy and their fondness of learning. We will help them," he said.
While setting fire to light up the little wooden house located at the foot of a mountain at nighttime when the lights went out, Vu says she hopes one day she can also attend university like some Mong students they met.
"One day I hope that our dreams will become true. I will continue to work hard, study hard and one day I hope we can see our life improved," she said with her eyes brightening with hope.