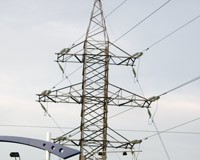 People living on Phu Quoc Island will have enough electricity for daily consumption (Photo:T.C)
To meet the rising demand in the Viet Nam's largest island of Phu Quoc, Kien Giang province recently announced its plan to have more electricity projects on the island.
Speaking with the SGGP reporter, the Provincial Party Committee Secretary Truong Quoc Tuan said leaders of Kien Giang province are planning to hold a meeting with the Ministry of Planning and Investment, the Electricity of Viet Nam and other relevant units to discuss detailed measures for the projects.
The current electricity consumption on the Phu Quoc Island is 5 to 6 MW. Within the next two years, the island will need at least 10 MW and the number will increase to 50 MW in the following years, said Mr. Tuan.
A Japanese-Australian joint-venture has recently presented its projects for establishment a thermo-power station with a capacity of 1,000 MW. The US$1 billion station, built according to the building-operation-transfer (BOT) scheme, will locate on a 150-hectare site.
Previously, the Chinese Tianjin Group China said it would invest US$24 million in the 40-km electricity cable installation on the Phu Quoc island.