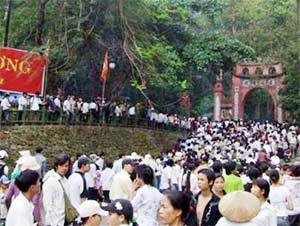 Tens of thoudsands of people flock to Hung Temple to commemorate the aniversary.
Worship rites and festivities have been taking place in HCMC and the province of Phu Tho over the last couple of days commemorating the anniversary of Hung Kings' death.
Just two days into a five-day festival, some 170,000 people from across the country flocked to the Northern Province on April 21 and 22 to take part in worship rites organized at the Hung Temple in Phu Tho City.
According to Mr. Ta Duc Chuyen, Deputy Head of the Management Board of the Hung Temple Historical Site, the number of pilgrims and tourists this year has increased significantly due to the new public holiday commemorating the late kings' death on the tenth day of the third lunar month.
Apart from rites held at the temple in Phu Tho city, other cultural activities, including music festivals and sports events, have also been organized in Viet Tri City aiming to attract more tourists there.
On April 22 in HCMC, opening ceremonies hosted by the Ho Chi Minh cultural center at the Hung Temple in the zoological and botanical gardens, included an incense offering ritual, a palanquin parade and a dancing dragon show.
Various traditional and cultural activities have also been scheduled to take place in the Suoi Tien Tourist Area from April 26 to May 1 including a palanquin parade featuring the participation of more than 1,000 actors and representatives of more than 25 Vietnamese ethnic groups from across the country. While making preparations for the festivities, organizers have invested more than VN$4 billion decorating the Hung Temple there and building a stage with a seating capacity of 3,000.