Phu Yen Province's aquatic authorities released an endangered green turtle back into the sea on September 24, a few days after it was caught by fishermen when it strayed into a cage they were using to breed fish and shrimp.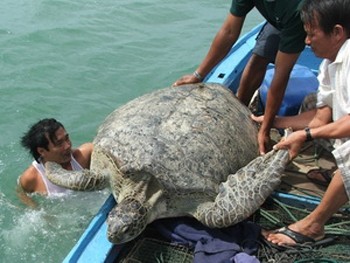 The 120 kilogram green turtle is released into the sea in Phu Yen Sep. 24 (Photo: VNA)
Nguyen Ngoc Son, 42, of Tuy Hoa City had bought the 120 kg, 1.4 meter long animal from the fishermen and put it in a glass tank at home, thinking it was about to lay eggs. But when it did not, he decided to inform the authorities for releasing it back into the sea.
The central province's Sub-Department for Aquatic Resources Protection took possession of the reptile and released it into the sea.
This green turtle species is listed in the Red Book.