The central coastal province of Phu Yen was rocked by a mild earthquake at 6:03pm Thursday, measuring 5.1 on the Richter scale with its epicenter 300 kilometers east of Phu Yen coastline.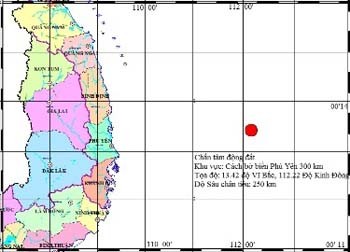 The red dot marks the quake epicenter off Phu Yen Province (Photo: Institute of Earth Physics)
The Institute of Earth Physics stated that the quake epicenter was located 13.41 degrees north latitude and 112.22 degrees east longitude and 250km under the sea.
No damage has been reported in any part of the coastal province.

In related news, the National Committee for Search and Rescue along with Da Nang City authorities discussed ways to tackle any eventual damage caused by the quake.
Da Nang is the first province in the country to have built a tsunami warning system along its seacoast and has held rehearsal drills to cope with eventual tsunami disasters.
Authorities plan to hold a maneuver on October 7 in Tho Quang Ward of Son Tra District, expected to be attended by over 2,840 people and hundreds of aircraft, boats and automobiles.