A massive fire broke out at the Phuong Dong night club located on Dong Da Street in Da Nang City at around noon on December 23, spreading panic amongst local residents who rushed out of their homes.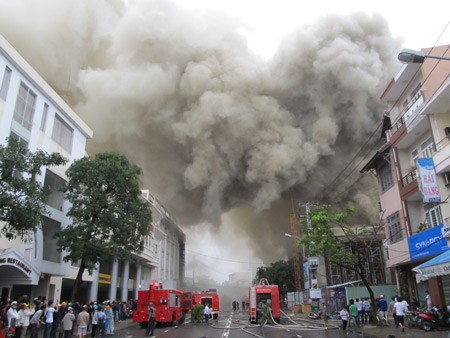 Smoke affects residents living within a two kilometre radius of the club (Photo:SGGP)
The fire broke out at around noon when the night club was busy preparing for Christmas and New Year celebrations. People saw clouds of smoke arise from the night club and called for help.
Ten fire engines arrived at the scene but found it difficult to enter the club, which had only one door.
Fire fighters equipped with gas-masks and water cannons desperately tried ways to enter inside the club to squelch the fire. However, the flames quickly spread and soon engulfed the entire club.
It was around 3 pm before the fire was brought under control, the police said.
The smoke affected residents living within a two kilometre radius of the club.
Initial investigation showed that the fire broke out at the construction site of the bar and karaoke joint and then spread through the whole club. The fact that it was raining did not help much.
There were no immediate reports of human casualties, said senior lieutenant colonel Truong Quang Trong, deputy head of the Hai Chau District Department of Fire Fighting and Prevention.
Phuong Dong was the largest night club in Da Nang. It attracted crowds of local youth as well as foreign visitors. Many   local singers gave live performances here each night.