An inspection team led by Nguyen Thi Xuan Thu, Deputy Minister of Agriculture and Rural Development, on April 6 visited several pig-breeders and slaughterhouses to check for use of illegal chemical substances that produced overweight pigs in Dong Nai Province.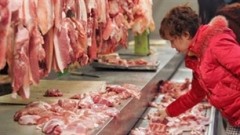 A woman looks at pork put for sale at a market (Photo: VOV)
According to the Department of Agriculture and Rural Development, the province is asking pig-breeders, slaughterhouses, animal drug stores and traders to avoid use of banned chemical substances to make pork.
The team expressed appreciation of the province's efforts in discovering and penalising defaulters who were continuing to use banned chemical substances to make pork for sale in the market.
The team checked breeding facilities in Binh Minh MTV Company in Trang Bom District and discovered two households were still using banned substances in Phu Son Village of Trang Bom District.
On the same day, the southern office of the Department of Environment Crime Protection Police, under the Ministry of Public Security, reported that two companies in Ho Chi Minh City were supplying banned chemical substances to pig-breeders and slaughterhouses in the southern regions, mainly in Ho Chi Minh City, Binh Duong and Dong Nai provinces.
The police seized the entire stock of banned chemical substances and will penalise the two companies.
Banned substances such as salbutamol, chlenbutarol and ractobamine have recently been found in pork samples in Dong Nai and some other localities around Ho Chi Minh City, raising concerns among consumers.
These substances belong to a group of beta-agonists and stimulate growth and quickly develop lean meat in pigs. Since 2002, these harmful chemical substances have been banned in Vietnam.