Two pilots on fighter planes confirmed missing during a training session near Phu Quy Island in central Binh Thuan province on April 16 remained unaccounted for.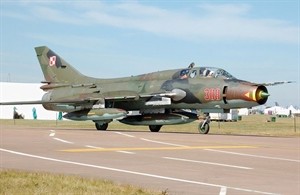 Illustrative image (Source: VNA)
The two Air Division 370 jets took off from Thanh Son Military Airport in Ninh Thuan province in the morning of Aril 16. They lost contact a few hours later.
According to Major General Do Minh Tuan, deputy commander of the Vietnamese Air Force, the jets' expected crash area was 15km north of Phu Quy Island bordering Ninh Thuan and Binh Thuan provinces.
The Ministry of National Defence deployed forces for an urgent search immediately.
After hours of searching, rescuers found oil slicks and three of the jets' oil tanks in the sea. Authorities suspected the pilots jumped out of the planes around 10:35am when the accident occurred, but they still haven't been found.
The USSR-made Sukhoi Su-22 jets began serving in the Vietnamese Air Force in 1979.
On March 26, a military helicopter crashed in Binh Thuan province while preparing to land on Phu Quy Island after taking off from Thanh Son Military Airport. The passengers suffered light injuries.-VNA