Around 30,000 people attended the Pink Blood Donation Festival in the National Convention Center on February 18 to give over 10,000 blood units for medical treatment in 170 infirmaries, said the festival organizer.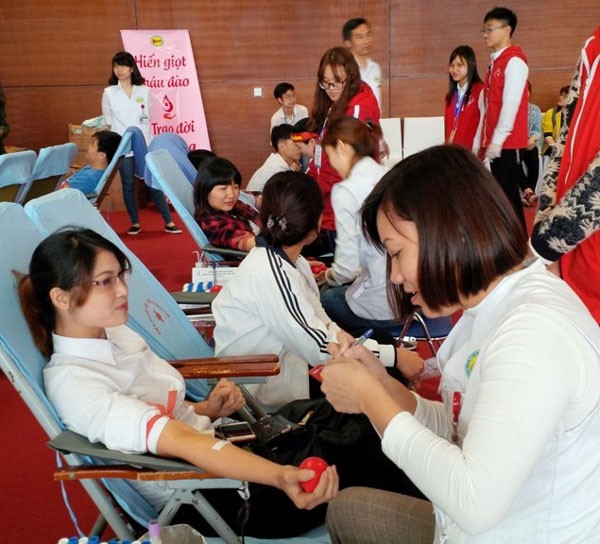 Many young people give their blood at teh festival (Photo: SGGP)
The Central Institute of Hematology and Blood Transfusion in coordination with the voluntary blood donation steering board in Hanoi and the Youth Association for encouraging people to give their blood organized the festival in which hundreds of students from city's universities and colleges and residents took part.

The festival's themed "Giving blood- Giving lives", marking its tenth anniversary in Vietnam with success.

The organizer said that the 2017 festival is the largest one nationwide since it has been held from 2008.

The festival organizer has received nearly 51,000 blood units through nine festivals greatly contributing to treatment for people, especially in tet holiday ( the Lunar New Year) and to increase people's awareness of voluntary blood donation and change people's concept of blood donation in the beginning of the year.
Head of the Institute Professor Nguyen Anh Tri said that through ten years, the festival has deleted the concept that it is unlucky to give blood in the beginning of the year.

Chairwoman of the Vietnam Red Cross Society Ms. Nguyen Thi Xuan Thu said that the festival has become a healthy cultural feature and practical activities in the early year.

Along with voluntary blood donation, other activities such as musical performance, photo exhibition of the festival in ten years and camp with the participation of celebrities.