The Ministry of Agriculture and Rural Development plans to spend US$80 million on planting mangrove forests along the coastal areas of seven north-central and northern regions of Vietnam from 2014-2022.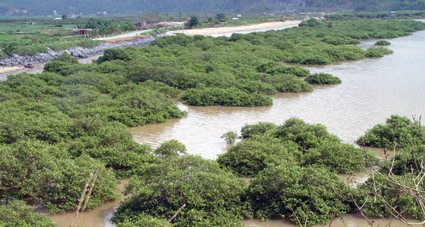 Coastal mangrove forests in Cat Hai District in Hai Phong City (Photo: baohaiphong.com)
The seven provinces targeted for the propagation of mangrove forests are the north-central provinces of Quang Binh, Thanh Hoa, Nghe An and Ha Tinh and the northern provinces of Ninh Binh and Thai Binh and also Hai Phong City.
According to the ministry, this will be the first phase of a project to propagate mangrove forests in vulnerable coastal areas of Vietnam for which the World Bank will provide a loan of about US$80 million.
The mangrove forestry project will help retain precious land in coastal areas from being washed away, cope with climate change, preserve indigenous biodiversity and improve the living environment for the local residents.