Fruit tree is considered as one of key produce of the Mekong Delta provinces; however, development of orchards has not been as expected due to volatile price and unstable consumption. Building a large-scale and high quality fruit-tree growing area for domestic consumption and export is an urgent matter.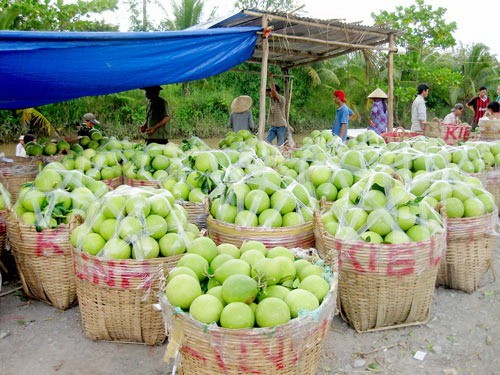 Farmers gather Nam Roi pomelos in My Hoa Commune in Vinh Long Province's Binh Minh Town before sending to other provinces for consumption. (Photo: SGGP)
The price of limes has continually dropped in the past few days, upsetting farmers in the Mekong Delta provinces.

Nguyen Van Nam, a farmer in An Hiep Commune in Dong Thap Province's Chau Thanh District, complained that the price of lime has unexpectedly fallen to VND2,000 per kilogram while it was around VND20,000-30,000 per kilogram in previous years, causing his family to suffer huge loss.

Farmers in Thanh Loi, Thanh Hoa and Binh Duc communes in Long An Province's Ben Luc District where lime trees are grown in large scale are also in sorrow as lime price is decreasing.

According to Duong Thanh Thai, chairman of the Association of Farmers of Thanh Loi Commune, earlier, sugarcanes were grown in this area. However, because the price of sugarcane was low, farmers have shifted to grow lime trees.
Currently, there are around 800 hectares of lime trees in this commune, making it becomes one of communes with highest area of lime trees in Ben Luc District. When the price of seedless limes were from VND20,000 per kilogram upwards, farmers earned a profit of hundreds of millions of Vietnamese dong per hectares. Nevertheless, this year, the price of lime fell because limes did not reach standards. Moreover, high production prompts traders to lower purchasing price.

Meanwhile, farmers in Long An, Tien Giang, and Tra Vinh provinces were discouraged because their dragon fruits were unsalable. Truong Van Tam, a farmer in My Tinh An Commune in Tien Giang Province's Cho Gao District, said that dragon fruits were in season so the price of grade-1 white-flesh dragon fruits declined to VND6,000 per kilogram while other grades were at VND1,000-2,000 per kilogram. With such price level, farmers did not see any profits but they had to spend money in harvesting.

Meanwhile, in Hau Giang and Dong Thap provinces, sweet mandarin growers were delighted because this kind of fruits is selling like hot cakes and at high prices.

Pham Van Lanh, a farmer in Tan Thanh Commune in Dong Thap Province's Lai Vung District, said that traders bought sweet mandarin at VND25,000-30,000 per kilogram. This price level ensures growers an income of VND500-700 million per hectare.

According to Nguyen Van Manh, vice chairman of the People's Committee of My Hoa Commune in Vinh Long Province's Binh Minh Town, the price of Nam Roi pomeloes was fairly high in the past two years. Last lunar New Year holidays, the price of pomelos surged to VND25,000-30,000 per kilogram. Now, it stood steadily at VND18,000-20,000 per kilogram, bringing in higher profit than from growing rice.

'Thanks to high price, the area of pomelo trees in the region rose to 1,149 hectares. Farmers put more effort into their orchards so that their pomelo trees will produce more high quality fruits so as to earn more profits,' said Mr. Manh.

The Ministry of Agriculture and Rural Development said that southern provinces have an area of 416,000 hectares of fruit trees with an annual production of more than 4.3 million tons of fruits, of which the area of fruit trees in provinces in the Mekong Delta accounts for more than 289,000 hectares. Growing fruit trees plays an important role in cultivation industry, contributes to development of local economy and helps farmers improve their income. However, the situation that the prices of fruits usually drop when fruits are in season has concerned local farmers. In order to solve this problem, the ministry recommended farmers to adjust the time that fruit trees give fruits to earlier or later than normal harvest time to deal with overproduction. Farmers in Dong Thap Province have applied this measure on mango trees for two years and are receiving positive results.

Besides, other measures should be taken in order to help fruits in provinces in the Mekong Delta to develop. The link from production to purchase then to processing and exporting fruits is still extremely weak. Farmers mostly sell their produce to traders instead of to companies. In addition, investment in preservation of fruits remained poor in both scale and technology.

Nguyen Thanh Nam, deputy director of Duc My Dragon Fruit Cooperative in Tra Vinh Province, said that his cooperative can gather farmers to build large-scale fruit growing area and help them with techniques and materials so as to reduce cost price and increase productivity and fruit quality. However, it has not associated with any businesses so consumption of fruits always remains passive. Export of fruits is difficult as it still needs many intermediate stages.

He said that the Government should encourage business to invest strongly in fruit sector in order to help to export Vietnamese fruits to demanding markets.