Viet Nam's Prime Minister Phan Van Khai accepted Transport Minister Dao Dinh Binh's resignation on April 4, 2006 amid a serious corruption scandal in which officials serving under him reportedly embezzled millions of dollars in state funds.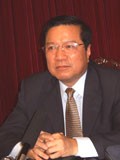 Dao Dinh Binh
In his resignation letter to the Prime Minister, Mr. Binh said he accepted responsibility for wrongdoings having taken place in his ministry and its Project Management Unit 18 (PMU18).
"I'm very saddened and would like to take full responsibility for what have happened at the ministry and PMU18," his resignation letter read.
"I resign as Transport Minister and secretary of the committee of the Party at the ministry, and request my name not to be in the list of the delegates to the tenth Party Congress," he said in the letter.
Mr. Binh, who became the Transport Minister in 2002, had been under increasing pressure in recent days, with media publicly calling for his resignation because PMU18 officials are accused of misappropriating money from construction projects and of bribery.

This is the second ministerial resignation. In 2004, Agriculture Minister Le Huy Ngo stepped down. 

Related stories
Prime Minister Proposes Dismissal of Minister

Police: Enough Evidence to Prosecute Deputy Transport Minister

PM Dismisses Deputy Transport Minister