Prime Minister Nguyen Tan Dung has signed a decision to establish a committee on national civil aviation security, aiming to help the PM direct and coordinate activities between ministries, departments and agencies in order to resolve issues related to civil aviation security.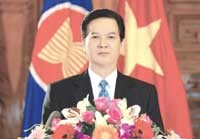 PM Nguyen tan Dung
The committee will be tasked with ensuring the civil aviation security and act in an advisory role to help the government coordinate amongst related agencies and organizations to check, monitor, propagandize and popularize aviation regulations to ensure civil aviation security and the strictly implement regulations.
Under the decision, the committee also has right to propose to the PM to commend and reward organizations or individuals, who make outstanding achievements which help safeguard national civil aviation.
The committee may also propose (to the PM) penalties for violations in implementing activities that aim to keep the national airspace safe.